Acura Genuine


Accessories

Personalize your Acura with Acura Genuine Accessories. Engineered to seamlessly integrate
with your specific Acura, they enhance form, function and resale value.

Shop Genuine Accessories


Take the Acura Accessories App for a Spin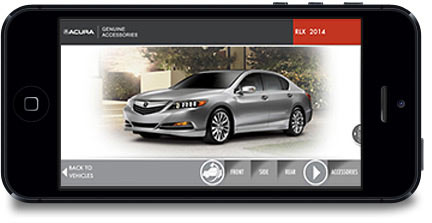 Access the interactive Acura Genuine Accessories catalog right from your iPhone or iPad. Watch informative videos, review the most popular accessories for your specific model, and learn more about our accessory design philosophy.
Our Design Philosophy
The Acura Genuine Accessories philosophy is simple: Every accessory is designed and engineered to enhance your driving and ownership experience.
Watch the Video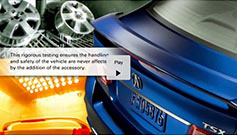 See the commitment to excellence that goes into every Acura accessory from conception and design to development, engineering and testing.
Our Featured Accessory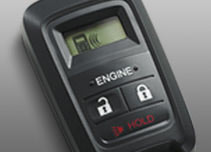 The all-new Acura Remote Engine Start System offers the convenience of warming up your car on cold days or cooling it off on hot days—without leaving the comfort of your home or office.
An LCD screen on the transmitter indicates the current status of your vehicle. When you activate the system, a comprehensive check ensures all security and immobilizer system are intact and operational. Aftermarket products cannot claim this factory-integrated security feature. Now you can start or stop your Acura from a distance of up to 400 feet, knowing it is protected at all times.
Every Acura Accessory carries a full 4-year/50,000 mile warranty when installed at the time you purchase your new Acura vehicle.
*Contact your Acura Dealership for specific Remote Engine Start System availability.
Caution: Never start your vehicle in an enclosed area as this may cause carbon monoxide build-up.